This project grew out of several 4DGL programs that I have written over the past few months to learn how to use various GPS systems and experiment with how to use the data. I was inspired by Anna's Sandbox projects to put them together into a finished project with documentation, reference materials, parts list and build diagrams. Plus I wanted to do a project using the new 4DGL GFX2 language.
The project uses the following parts:
4D Systems DEGBOARD-G1 -
http://www.4dsystems.com.au/prod.php?id=30
uOLED-160-G1(GFX) -
http://www.4dsystems.com.au/prod.php?id=29
uUSB-MB5 -
http://www.4dsystems.com.au/prod.php?id=18
or
uUSB-CE5 -
http://www.4dsystems.com.au/prod.php?id=19
Parallax GPS -
http://www.parallax.com/Store/Sensors/CompassGPS/tabid/173/CategoryID/48/List/0/Level/a/ProductID/396/Default.aspx?SortField=ProductName%2cProductName
and some jumper wires to hook things up on the DEVBOARD-G1's breadboard.
The attached ZIP file contains a number of documents and the 4DGL source code to help you build the project.
GPSPParser_V1.1.4dg 4DGL source code
GPS_SampleSentences.txt Samples of the data being read from the GPS receiver module to help understand how the code works
uOLED-160-G1_GPS_Project_Docs.doc Documentation for the application and some helpful references
Log_KML_Template.kml Insert your GPS log data into this template and open it in Google Earth to show the GPS path that you've saved
01-01-09_ToDiner.kml Sample .kml file of actual logged GPS data from the application. Open this file from inside Google Earth and you can take a ride with me (well, you can see the route I took) to breakfast at the Readington Diner.
I've also included a link to a Youtube video of the application in action:
http://www.youtube.com/watch?v=RH1UqPkthgk[/video]]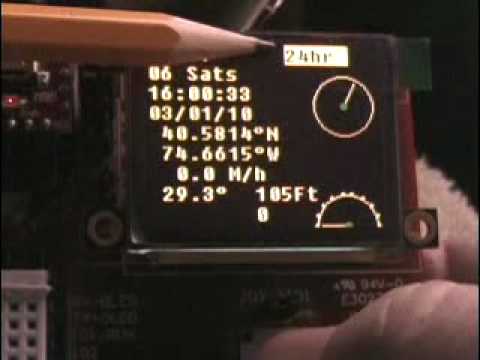 "I am NOT a professional narrator, I just pretend to be one on Youtube"
I hope you enjoy the project as much as I have and I hope that this, along with Anna's many contributions, will inspire more users to contribute to the "The Sandbox".
Steve
Attached files
4DGL_GOLDELOX-GFX_GPS.zip
(329.9 KB)