The Picasso based 4D systems devices offer great flexability and functionality along with great Value for money.
They do lack a few on board hardware options such as PWM or Analog to Digital conversion. They are however, equipped with an I2C interface which allows easy connectivity with various I2C based devices which can cover the small amount of on board short comings.... and more.
For an explanation of the I2C bus see here :-
I2C-Bus: What's that?
http://www.i2c-bus.org/

There are a wide range of I2C based devices available such as
1. DAC's
2. ADC's
3. GPIO expander's
4. PWM drivers
5. Motor Controllers
7. Motion and light Sensors
8. Movement, Gyro and Accelerometers
and many more..
In this thread i will detail my adoption of a 10 channel Analog to digital converter I2C device to the Picasso.
The device i Choose was a very good value for money 10 channel A/D converter with 10bit resolution.
http://www.byvac.com/downloads/datasheets/BV4205%20DataSheet.pdf
The device cost a Total of 3.60 UKP delivered which is great value.
http://www.byvac.com/bv3/index.php?route=product/product&path=54&product_id=77
The BV4205 is an I2C two wire compatible
integrated circuit with a 10 channel 10 bit A to
D converter. The IC works independently of
the micro controller and can acquire analogue
signals continuously until required.
2. Features
â I2C up to 400kHz
â Simple command set
â 10 channels x 10 bits
â Differential input 1023
â 2 us Conversion time
â 5 us Acquisition time
â Can continuously monitor all channels
â Vref selectable
â EEPROM for general use
â Sleep mode to save power
â Operating voltage 2.0 to 5.5V
â Current 1.8mA @ 5V
â Sleep current 200uA
Our Current hardware is a VGA-II which is running a 5.6" TFT screen embedded in a car dashboard. Our Data being displayed is polled from an open source transmission ECU serially. We could have used CAN-BUS but this would have meant another slave device such as an MBED. We decided that as well as transmission data we would like various engine data to be displayed, a majority of which is derived from 5v sensors. The other sensors are Resistance based, and using voltage divider circuits we can obtain a variable voltage from these to obtain data.
Our display at testing phase looks like this..
we also use the Picasso's I/O pins to determine if devices like the lights are switch on, for example here we use the 4DGL replace colour command when we have an input on the headlight switch to change the dial outline from white to green (the colour of the stock illumination)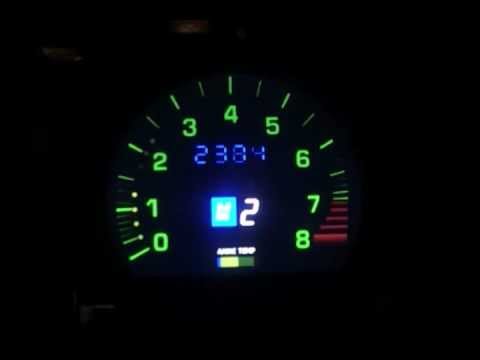 Like many others on here i am an novice to electronics and embedded systems, so bare with me
Through this Particular thread i will detail building a small carrier board for the BV4205, hardware wiring, 4dGL coding, and finally and example using a 5v throttle position sensor, a 5v pressure sensor/map sensor and a 3 axis accelerometer to show corning, acceleration and braking G-force.
The first task was to contract a small board to carry the
BV4205

[img width=448 height=317]https://fbcdn-sphotos-f-a.akamaihd.net/hphotos-ak-prn1/557490_10151212892816138_1259337046_n.jpg[/img]

[img width=603 height=804]https://fbcdn-sphotos-b-a.akamaihd.net/hphotos-ak-snc7/386981_10151212807856138_2083904362_n.jpg[/img]

A few notes to mention on the
BV4205
...
PIN4 (not labeled) - Must be connected to ground
PIN 11(SCK) this is the I2C clock, a pull up resistor is required. I used 4k7
pull up to power source (on pin1)
PIN 13 (SDA) this is the I2c data, a pull up resistor is requiredI used 4k7
pull up to power source (on pin1)
When finished, connected up to the VGA-II and installed a MMA7361LC 3-Axis Analog Acceleration Sensor Module to the board, using just the X,Y inputs to A6 and A7 on the BV4205
[img width=624 height=830]https://fbcdn-sphotos-d-a.akamaihd.net/hphotos-ak-snc7/383369_10151212808006138_1643264056_n.jpg[/img]
Now for the Programming...